Books by Mike Marqusee
---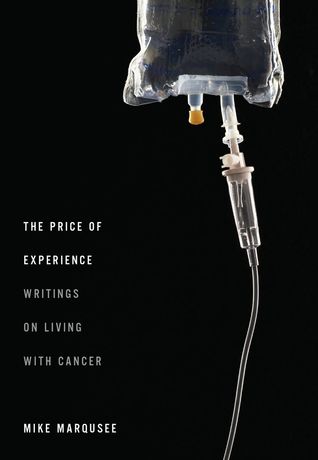 The Price of Experience: Writings on Living with Cancer
Published by OR Books, 2014.
Writer and political activist Mike Marqusee was diagnosed with multiple myeloma, a type of blood cancer, in the summer of 2007. At first, disinclined to share his misery with others, he was reluctant to write about his illness. But he then came to realise that doing so provided a precious continuity with his life as a writer before contracting the disease, and a way of reaching out to a wider world that the illness made physically less accessible. Writing allowed him to address what he saw as a variety of insidious platitudes that surround cancer, often connected to the individualistic idea that the sufferer must be brave in battling the disease, with the inevitable corollary that those who succumb have, in some measure, brought it on themselves.
---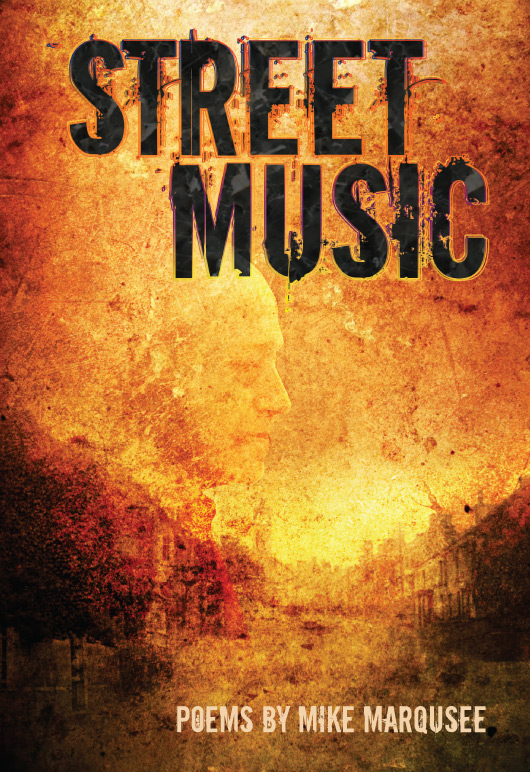 Street Music: Poems by Mike Marqusee
Published by Clissold Press, 2012.
A new book of more than 60 poems written between 2009-2012, with a prose introduction by the author.
The poems, including the long sequence, "Multiple Myeloma, a suite", weave together personal and political themes, home thoughts and thoughts from abroad.
---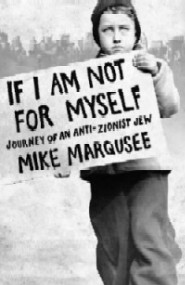 If I Am Not for Myself: Journey of an Anti-Zionist Jew
Published by Verso, 2008.
"A tour-de-force of political and cultural analysis of various aspects of Jewish, Zionist and anti-Zionist history and politics. Marqusee touches on many painful spots … The comparisons he draws between Zionism, Hindu nationalism, and other similar and dissimilar political phenomena are incisive and accurate. He shies away from no controversy, and his accounts of incidents in and around the anti-war movement are penetrating and intellectually honest…. a manifesto for a whole generation of Jewish radical activists who refuse to be deterred by the threat of being labelled, and libelled, as self-haters." – Daphna Baram, The Guardian
"When I had finished this book, I wanted to cheer… The personal and the political coalesce, making this book, subtitled "the journey of an anti-Zionist Jew", a rare and precious work. Its polemical force is anchored in experience…If Jewish adolescents got Marqusee's book as a barmitzvah present, there might be a chance of avoiding the repetition of history's mistakes." – Michael Kustow, The Independent
---
Saved by a wandering mind: poems by Mike Marqusee
Published by Level Playing Field, 2009.
---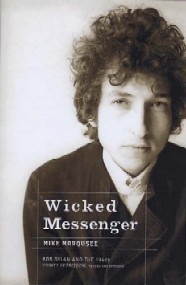 Wicked Messenger: Bob Dylan and the Sixties
Revised and expanded edition of Chimes of Freedom
Published in October 2005 by Seven Stories Press.
Korean and Norwegian translations published in 2006.
---
Chimes of Freedom: the Politics of Bob Dylan's Art
Published by The New Press, October 2003.
A special Indian edition was published by Seagull in April 2005.
---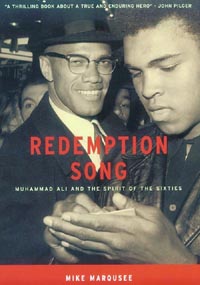 Redemption Song: Muhammad Ali and the Spirit of the Sixties
Most recent edition published by Verso in February 2017, with a new introduction by American sports journalist Dave Zirin.
An Indian edition was published by Seagull in 2000.
Redemption Song has also been translated into Japanese, Korean and Norwegian.
Is there a more characteristic figure of the 1960s than Muhammad Ali — playful and political, populist and non-conformist, defiant and triumphant? Mike Marqusee puts the great boxer back in his true historical context to explore a crucial moment at the crossroads of popular culture and mass resistance. He traces Ali's interaction with the evolving black liberation and anti-war movements, his liaison with Malcolm X and encounters with Martin Luther King.
Redemption Song was short-listed for the William Hill Sports Book of the Year award and voted one of twenty-five 'Books to Remember' from 1999 by the New York Public Library. It was also included in the SportsPages Bookshop list of the thirty best sports books ever published.
---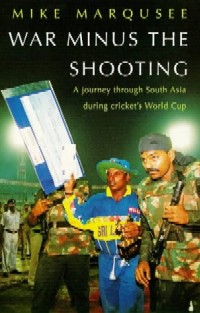 War Minus the Shooting: a journey through South Asia during cricket's World Cup.
Published by Heinemann, 1996. Mandarin paperback 1997.
Cricket's 1996 World Cup was staged across India, Pakistan and Sri Lanka. Mike Marqusee followed the action on and off the field, from the political and financial controversies to Sri Lanka's magnificent underdog victory in the final in Lahore.
---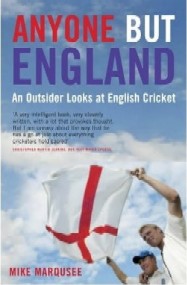 Anyone But England
First published as Anyone But England: Cricket and the National Malaise by Verso in 1994. Penguin India edition 1996.
An updated and extended version was published by Two Heads in 1998 as Anyone But England: Cricket, Race and Class.
A third edition was published by Aurum Press in 2005.
The current edition, with an introduction by Rahul Bhattacharya, is published by Bloomsbury, 2016, and can be ordered here.
Since its first publication in 1994, Anyone But England has been widely recognised as one of the few indispensable anatomies of the game. Short-listed for the William Hill Sports Book of the Year Award, it also received the annual Aberdare literary prize from the British Society of Sports History and was included in the SportsPages Bookshop list of the thirty best sports books ever published.
---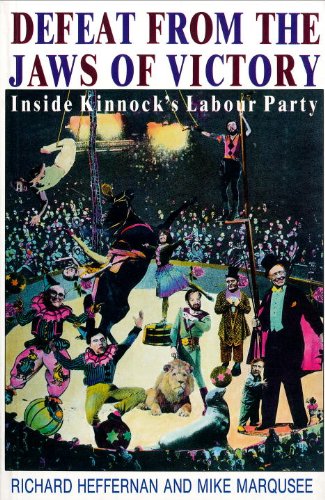 Defeat from the Jaws of Victory: Inside Kinnock's Labour Party
Published by Verso 1992 (co-author with Richard Heffernan).
---
Slow Turn, a novel
Published by Michael Joseph, 1986. Sphere paperback 1987. Penguin India paperback 1996.
---
Support Your Local Bookshop
There are many reasons to buy from local independent book shops – because they provide a first-class service tailored to their customers' requirements, or because they work within their local community to provide a focus for literary and cultural events.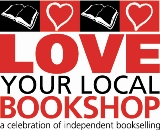 And unlike anti-union online retailers like Amazon.com, local book shops don't hire aggressive, US-style union busting consultants like the Burke Group to try and to dissuade their employees from joining a trade union.
To find a local book shop near you, click here.